Home
Forum
VEGAS Pro and VEGAS Movie Studio Forums
VEGAS Movie Studio Forum

Problem with Preview Window/Colors are faint
Solved

Problem with Preview Window/Colors are faint
Topic Author

Zen Newbie
Posts: 2
Karma: 1
Thank you received: 0
Problem with Preview Window/Colors are faint was created by Rantanplan
Hi Gents!

First of all: Great place here and great support.

I am using Sony Movie Studio Platinum 13.0 (64-bit).

My Problem: The video in the preview window looks faint and kinda washed-out. Colors of original footage and after rendering are all right, but – as said – in the preview window it looks faint. This is a problem for color correction etc. because I am not able to form an opinion.

Tried also the different settings for the preview window but with no avail.

How can I fix the problem.

Thank's in advance for your valued help and hints.

Rantanplan
Please Log in or Create an account to join the conversation.
Replied by DoctorZen on topic Problem with Preview Window/Colors are faint
Hi Rantanplan - Welcome to the MSZ Forum
This topic can get quite complex, because there are numerous factors that can cause problems.
When you play any video in Vegas Movie Studio, Vegas is playing the original video with zero FX or treatments being added - it is not uncommon for people to think their videos look flat in Vegas. However, when you play a video using a
Media Player
like Windows Media Player, VLC player or Cyberlink's PowerDVD, you may notice that the video looks more colourful and/or shows more contrast. This is because most media players artificially add their own filters to pump up the colour/contrast, unless you disable these effects in the settings. Different web browsers can also make videos look different.
Things to check...
1. Make sure you haven't accidentally turned on a setting or added a Video Effect, that is causing the video to shift in colour/contrast.
The best thing to do is reset Vegas first, to make sure all settings are at default values.
Reset instructions here:
www.moviestudiozen.com/doctor-zen-faq/573-how-to-reset-sony-software-to-default-settings#a1
After doing a reset, make sure to start a new project and test one of your videos.
Don't re-open an older saved project to test, in case the project contains settings you don't realize are switched on.
2. Make sure your computer monitor has been properly calibrated.
There is a calibration function in Windows you can use to get a basic setup done.
www.wikihow.com/Adjust-Colors-on-an-LCD-Monitor
Also make sure your computer monitor is set to correct mode - a lot of monitors have presets which are often terrible.
3. Make sure your Graphics Card driver software is set to show the full colour spectrum.
I don't know how to check AMD Driver software, but I do know how to check Nvidia Driver software.
If you are using an Nvidia graphics card, right-click your desktop and open
Nvidia Control Panel
.
Go to Video/Adjust video color settings
Select monitor if you use more than one
Turn on Nvidia settings, go to
Advanced
and set
Dynamic Range
=
Full (0-255)
Click Apply at bottom of window
This will force your computer monitor to display full colour range, which is important when using Video Editing programs or photo editing programs like Photoshop.
Regards
Derek
Remember to turn everything off at least once a week, including your brain, then sit somewhere quiet and just chill out.
Unplugging is the best way to find solutions to your problems.
Peace
Please Log in or Create an account to join the conversation.
Topic Author

Zen Newbie
Posts: 2
Karma: 1
Thank you received: 0
Replied by Rantanplan on topic Problem with Preview Window/Colors are faint
Hi Derek.
Thank's a bunch for your help.
As recommended from you, I changed my NVIDIA Settings.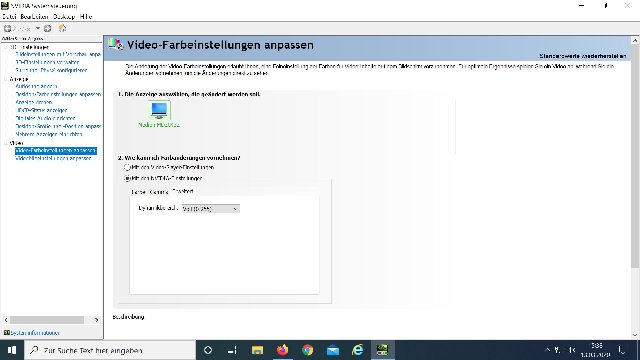 Beforehand it was set to video-player-setting; then I set it to NVIDIA-Setting with full range.
Preview now works good in full view modus. Small view and snapshots are still faint, but that is not so a big problem.
Again: Thank's and keep on the good work.
Rantanplan
Please Log in or Create an account to join the conversation.
Time to create page: 0.119 seconds